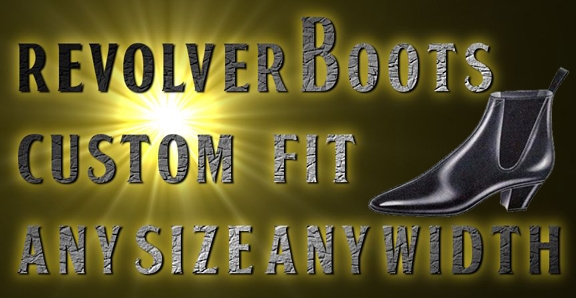 "Revolver Boots"
Authentic 1960's
Beatle Boots
Click on pics below to order
Patent Leather Black Calf Leather
All our boots are made in a premium South Korean Boot store using the finest materials available. They have beautiful hand selected calf leather and suede uppers, distinctive leather lining, durable leather soles, usable boot straps and are hand made by skilled Korean craftsmen using classic 60's British design. I found Mr Yu while serving in USAF stationed in Korea. The Korean craftsmenship goes unsurpassed in quality and durability, I know this first hand and is why I choose the craftmenship of Mr.Yu and his boot craftsmen team.. These are not massed produced, but each pair is custom fit by size, width and to each individuals special needs
I have seen Italian, German and USA bootmakers and these far surpass the quality and durability and cost of custom boots!
Michael R. Hawkins, Retired USAF MSgt 24 Years
Owner www.Beatlebootsusa.com
Retired Drummer for Meet Revolver
As a drummer with extra 4E wide feet it was important to be comfortable while playing in our tribute band
I couldn't find a authentic Beatle boot in extra width sizes, so I commishioned them to be made which led to the creation of Revolver Boots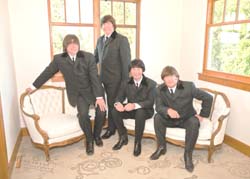 2011 Meet Revolver Tribute Band
Michael (Big Ringo) Hawkins
Standing in Picture
Custom Fit / Hand Made
Any Width Any Size
Authentic 1960's Beatle Boots
2" Cuban Heals
Two seam center stitch
Strong useable pull up strap
High quality leathers
Leather Souls
Only $435.00
Allow 20 days to create and ship
Free Shipping USA
Order by phone at (509) 680-1926 or online, just click on desired boot type picture above.