Sport Team Pocket Scarf and Hat Combo
20 Year Warranty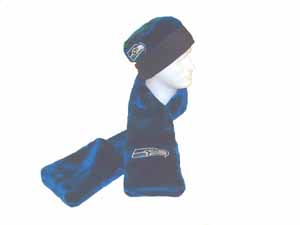 Any Football Team available
You name the team we make the Pocket Scarf and Hat
You can pick up your logo at the Seahawk Team Store for $3.00
Any Football Team available
You name the team we make the Hat & Pocket Scarf
Go to http://www.patchcollectibles.com/ to order your Pro Team Logo's
or Call 1-877-988-6900 and ask for Richard and request your order be shipped to :
Cuddlemewarm
1024 E. 10th Ave
Colville, WA 99114
Then send us your Logo's and we will sew them on at no charge.
It is not uncommon for a Cuddlemewarm Hat and Scarf to last 20 to 30 years
87% Acrylic and 13% Polyester
All Machine Wash and Dry
One Size fits all
Allow 14 days to make
Note: If you want to order just a hat they are $29.99
If you want just a pocket scarf they are $39.99
You save $10.00 when you buy the combo!!!!
When ordering online by credit card below , there is a comments section. Specify either Hat or Scarf there and I will adjust the price difference.
You can also order by phone at
(509) 680-1926

| | |
| --- | --- |
| Specification | Description |
| Weight | 3lbs |
| Fabric | 85% Acrylic |
| Measurements | one size fits all |
| Price | $59.00 |
Click Here for for Printable Order form to fax or mail